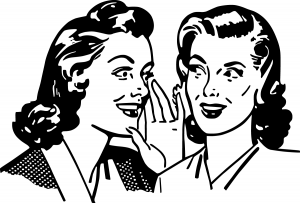 Gossip Nation.
: information about the behavior and personal lives of other people
: information about the lives of famous people
: a person who often talks about the private details of other people's lives
13 A gossip betrays a confidence, but a trustworthy person keeps a secret.
[Proverbs 11:13 NIV]
28 A perverse person stirs up conflict, and a gossip separates close friends.
[Proverbs 16:28 NIV]
8 The words of a gossip are like choice morsels; they go down to the inmost parts. [Proverbs 18:8 NIV]
19 A gossip betrays a confidence; so avoid anyone who talks too much.
[Proverbs 20:19 NIV]
20 Without wood a fire goes out; without a gossip a quarrel dies down. … 22 The words of a gossip are like choice morsels; they go down to the inmost parts.
[Proverbs 26:20, 22 NIV]
20 For I am afraid that when I come I may not find you as I want you to be, and you may not find me as you want me to be. I fear that there may be discord, jealousy, fits of rage, selfish ambition, slander, gossip, arrogance and disorder. [2 Corinthians 12:20 NIV]
28 Furthermore, just as they did not think it worthwhile to retain the knowledge of God, so God gave them over to a depraved mind, so that they do what ought not to be done. 29 They have become filled with every kind of wickedness, evil, greed and depravity. They are full of envy, murder, strife, deceit and malice. They are gossips, 30 slanderers, God-haters, insolent, arrogant and boastful; they invent ways of doing evil; they disobey their parents; 31 they have no understanding, no fidelity, no love, no mercy. 32 Although they know God's righteous decree that those who do such things deserve death, they not only continue to do these very things but also approve of those who practice them.
[Romans 1:28-32 NIV]
13 And besides they learn [to be] idle, wandering about from house to house, and not only idle but also gossips and busybodies, saying things which they ought not.
[1 Timothy 5:13 NKJV]
WHAT IF…
What if we could live in a world where creative ideas were discussed?  Then what if we took those ideas and rather than letting them fall to the ground we believed in them to the extent that a reality was established of these good ideas?  Where people came together to accomplish goals surrounded by an idea to make the world a little bit better for you and for me?  What if gossip became something that was disdained so much that conversation simply stopped when an individual lost sight of the more important direction of thought, such as an idea or ideas of how to implement good into the earth? Could we begin to take actions in such a way, that good ideas were coveted in everyday meetings and conversation with the people we surround ourselves by?  What if we simply began asking better questions, higher questions, rather than subjugating ourselves to the idle boring chatter and dull questions about other people's lives?  Imagine a world where we begin working together in such a way that the "powerful people" were seen as those not concerned about the details of others lives for the sake of filling time space, but rather those concerned about the well being of others near and far?  Neighbor and Stranger.  Friend and Foreigner.
Our words shape worlds and the people there in.  Shape my world with your ideas, conversation and action: in such a way it becomes a "Wonderful Life" and I'll do the same for you….
Deal?
You're capable of more than you realize.  Your good ideas can become.
Now begin to believe….
You're beautiful.  Be beautiful.